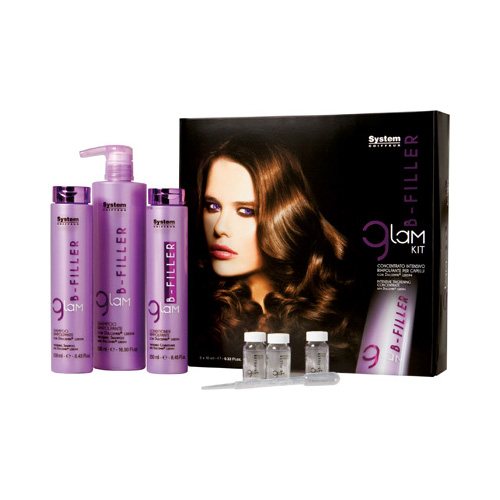 DIKSON
❤️


GLAM B-FILER
Haircare Treatments
---
fill treatment of hair structure
Does filling in the blanks on the capillary cuticle for a plumping effect tangible. Designed to nourish and flesh out the fiber more barren and fragile, is ideal for all types of hair that needs a structural enriching treatment. Dulcemin ® LS8594, glycoprotein extracted from the seeds of Prunus Amygdalus, is the main active ingredient of treating B-FILLER of Glam. His notes and recognised with conditioning, nutritional properties and remedial action to slow release of Dulcemin ® LS8594 are a valuable ally for this new and effective treatment filler. B-Glam FILLER helps in preventing split ends.

PLUMPING INTENSIVE CONCENTRATE
Glam B-CONCENTRATED FILLER is an intensive treatment of filling the hair structure. Designed to nourish and flesh out the fiber more arid, fragile and with a low tensile strength, is enriched with Dulcemin ® LS8594. For a full treatment are recommended an average of three applications. Glam B-FILLER CONCENTRATE helps in preventing split ends.
directions for use: after cleansing with Glam hair B-SHAMPOO PLUMPING FILLERS, proceed with the application of Glam B-CONCENTRATED INTENSIVE PLUMPING FILLERS. For preparation, shake the vial before use. Apply on hair washed, not combed. For medium length hair, pour into Bowl with Glam, with the aid of a special donor, pipette 5 ml of Glam B-FILLER concentrate (half fialoide) and 30 ml of warm water. Mix with the brush until you obtain a homogeneous gel. Do not comb your hair. Divide the hair into four sections. Apply the product section to section with the brush on each area, starting from the roots and continuing on all lengths up to bits. You have completed the application, gather the hair into a headset and put under heat for 15-20 minutes. Remove the headset and wait for your hair to cool for rinse, eliminating only the 80% of the product. Dry thoroughly with a brush and hair dryer. For optimal results, pass lock to lock, the plate at 200° working with greater care the tips.
packaging: available in ampoules of 10 ml in box 6 PCs with Glam and application kit from 10 ml ampoules in packs of 6 PCs.

PLUMPING SHAMPOO
Creamy and delicate detergent formulation, ideal for dried up hair, brittle and exploited. B-FILLER SHAMPOO is enriched with Dulcemin ® LS8594 with hydrating, emollient and nourishing. B-FILLER with Glam hair SHAMPOO receive the benefits of the first phase of intensive treatment, even more plumping brittle buy body, brightness and districabilità. For a PLUMPING tangible result to proceed with the implementation of the Glam treatment products B-FILLER.
packaging: bottles of 250 and 500 ml.

PLUMPING CONDITIONER
B-FILLER Glam CONDITIONER is ideal to keep the results of the Glam treatment B-FILLER concentrate. To be used after shampooing, brings the benefits of conditioning and nutritive properties of Dulcemin ® LS8594. Thanks to the long lasting moisturizing effect, the hair regains its natural beauty, more full-bodied and always soft. B-FILLER Glam CONDITIONER helps prevent split ends.
packaging: 250 ml bottle.
---
Rate this product:
32 click
Viewed 88084 times
+3903311706328
Download PDF