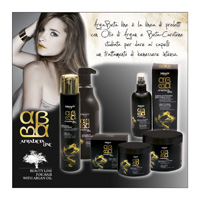 DIKSON
❤️


ARGABETA : INTENSE TREATMENT OF WELLNESS
Haircare Treatments
---
with Argan Oil and Beta - Carotene

SHAMPOO FOR WELLNESS with Argan oil and extracts of seaweed
Wellness Shampoo for all hair types based on Argan oil and extracts of seaweed. Gently cleanses, nourishes and fortifies the hair protecting them from free radicals and aging. The antioxidant action and fortifying Argan Oil is enhanced by extracts of seaweed which, by interacting with the hair and scalp, offer a rich reserve of energy and vitality. The hair is soft as silk, healthy and shiny.
box: 250 ml and 500 ml bottle with dispenser.

MASK OF WELL-BEING FOR HAIR
Revitalizes all types of hair without weighing it down, and strengthen them ; restores the optimal balance of fiber and prevents premature aging. Argan oil, rich in Vitamin E (natural antioxidant) protects the hair from free radicals, and Beta- Carotene renews the energy reserves of the hair fiber and combats damage from UV rays. The hair is cleaned up and repaired from the inside outward. The result : absolute softness, hydration and shine.
box: astucciato jar of 250 ml and 500 ml jar.

CREAM OF WELL-BEING FOR CURLY HAIR frizz without rinsing
It is ideal for naturally curly or permed hair. The contribution of optimal hydration and antioxidant Argan oil is enriched by the action of Hairdensyl complex, a complex of proteins, amino acids of marine origin and extracts of honey, which protects, moisturizes and strengthens the hair, making it more bulky and elastic. The curls are defined, soft and gentle to the touch. The frizz eliminated. The hair is more natural and extraordinarily bright.
box: astucciato bottle of 150 ml.
---
Rate this product:
30 click
Viewed 145085 times
+3903311706328
Download PDF