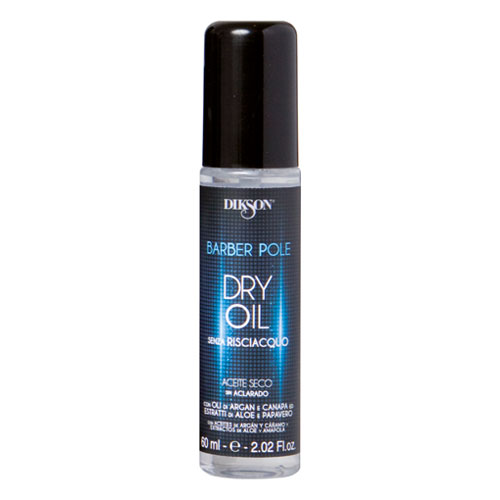 DIKSON
❤️


DIKSON BARBER POLE DRY OIL SENZA RISCIACQUO
Haircare Treatments
---
argan oil and hemp and aloe extracts and poppy
Ideal for maintaining soft and radiant his beard with a feeling of well being. Non-greasy ' most shave too scraggly untangles leaving it pleasantly soft to the touch without deeper tone. Argan oil helps to keep your skin hydrated and toned. Hemp oil has high nutritional value and keeps the skin elastic and firm ' in addition to fostering strong emollient to safeguard from reddening. Aloe extract has moisturizing and emollient ' polishes and protects. Poppy extract has soothing properties softening.
packaging: bottle of 60 ml.

DIKSON BARBER POLE
look and wellness in effective synergy paraben
Keep pace with new trends ' DIKSON enriches its offer of products for the masculine look. Specific assets that characterize the wording (Argan oils Jojoba and Aloe Extracts ' ' hemp and poppy) provide amazing results in total respect of scalp hair is facial hair. The scent of line promotes a pleasant sensation of wellness and vitality.
---
Rate this product:
30 click
Viewed 58017 times
+3903311706328
Download PDF