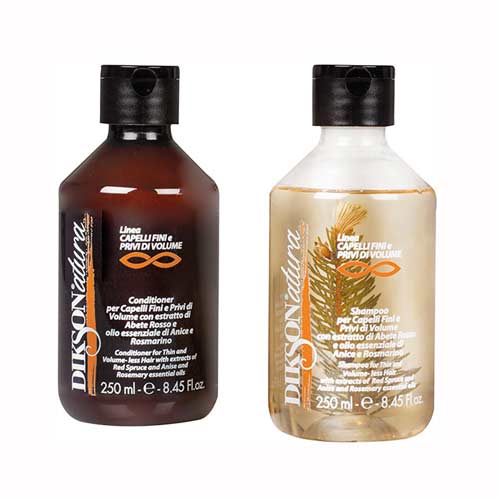 DIKSON
❤️


DIKSONATURA TREATMENT FOR HAIR AND WITHOUT VOLUME
Haircare Treatments
---
SHAMPOO with spruce
The gentle action of anise essential oil and Rosemary, together with the principles issued by the spruce twig plant extracts enriched of Saponaria and FIR, conducts toning and gives a thick foliage and volumizzata. The progressive and correct use of this shampoo in time returns shine and strength to the hair.

CONDITIONER
Thanks to spruce and the mix of essential oil of aniseed and Rosemary, the scalp is stimulated and reoxygenated. The conditioning effect, returns more voluminous, untangled hair without weighing it down, ensuring a result that is not only aesthetic but also structural. Spruce extract acts as an antioxidant antiseptic and stimulant helping you to keep your scalp healthy and vital.
packaging: bottles of 250 ml.
---
Rate this product:
30 click
Viewed 50787 times
+3903311706328
Download PDF