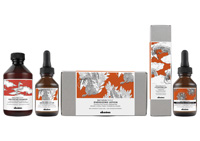 DAVINES
❤️


NATURALTECH
Haircare Treatments
---
New formulations enriched phytoceutical : biologically active compounds that protect plants, it is innovative active ingredients with exceptional antioxidants, anti-inflammatory and anti- radical. The technology Advanced has allowed us to deliver high-performance products, removing parabens from the formulas of all the products and sulfates from the formulas of shampoo. Surfactants of the latest generation for a thick and creamy lather and fragrance enriched with essential oils known for intense and persistent increase the pleasantness of sensory products. Davines bride advanced technology to protect, today and tomorrow man and the environment, taking care of the physical and mental wellbeing of customers, combining the benefits of the treatment, the sweet pleasure of massage.
FEATURES :
• INNOVATIVE FORMULATIONS
Fitoceuitici enriched with antioxidant function, anti-inflammatory and anti-radical, with unique scents enriched with essential oils; free of parabens and sulfates.
• SUPERACTIVES
It is focused specific hyper- active with the extraordinary performance of different anomalies. These products are multiconcentrati and do not need to contain phytoceutical in their formulas.
• MASSAGE
• UNIQUE AND SUSTAINABLE PACKAGING
Packaging of pharmaceutical herbal inspiration with a collection of drawings made ​​by hand, inspired by the concept and function of each individual and family models in various subjects to embellish each product. Containers in materials with a low environmental impact and highly biodegradable cartons.
BENEFITS:
• PERFORMANCE
Thanks to a careful search of ingredients of natural origin and a high technological development to offer the highest scientific innovation.
• TREATMENTS
Naturaltech The products are designed to create specific salon treatments problem-solving, to fight any anomaly of the skin and hair.
• AGREABLENESS SENSORY
To maximize the benefit and enjoyment of the use of prodottti.
8 FAMILIES :
• NOURISHING nutritious products, moisturizing and restructuring, for dehydrated scalps and hair dry and brittle.
• ENERGIZING stimulating products for skin and brittle hair, tending to fall.
• PURIFYING antiseptic products for all types of dandruff.
• REBALANCING normalizing and balancing product for scalps with overproduction of sebum.
• DETOXIFYING detoxifying products for rejuvenating and revitalizing scalps atonic and stressed by environmental factors such as pollution.
• CALMING dermocalmanti and soothing products for sensitive scalps.
• WELL- BEING moisturizing products to suit all types of skin and hair and is also recommended between treatments Naturaltech and the next.
• REPLUMPING plumping and firming products, suitable for all hair types.
---
Rate this product:
31 click
Viewed 136853 times
+3903311706328
Download PDF