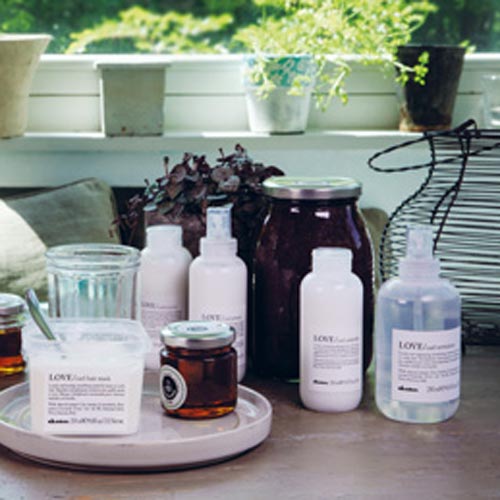 DAVINES
❤️


ESSENTIAL HAIR CARE: LOVE CURL
Haircare Treatments
---
Line is enriched with almond extract to Known from Slow Food, rich in Protein, B vitamins, vitamin E, unsaturated fatty acids, Magnesium, Iron, Potassium, Copper and Phosphorus, with action elasticizing and plumping. Davines laboratories have made this active even faster, thanks to the innovative enzymatic extraction process, able to give exceptional moisturizing and nourishing. It helps to give, over the entire length of the hair, an intense moisturizing effect comparable to that which is naturally present in the hair fiber, helping to counteract the dryness and frailty frequently associated to curly hair.
CLEANSING CREAM
Cleansing conditioner cream, very curly hair by gently moved to discipline.
directions for use: apply to wet hair and scalp, massaging gently. Leave on for 5 minutes and rinse. It is not necessary to apply a conditioner. Every third wash, alternate with the use of Shampoo and Conditioner or Hair Mask.
packaging: 500 ml bottle.
SHAMPOO
Elasticizing and disciplining shampoo, gives volume while keeping hair soft and light.
packaging: bottles of 75, 250 and 1000 ml.
CURL CONDITIONER
Firming and smoothing conditioner, gives elasticity and volume.
package: jars of 75, 250 and 1000 ml.
HAIR MASK
Disciplining and nourishing mask, gives an intense nourishment, moisture and softness to the hair wavy or curly, making them extremely workable.
package: jars of 75, 250 and 1000 ml.
CURL PRIMERS
Moisturising milk that gives definition to hair wavy or curly, combining it and facilitating styling. With anti-humidity and heat protection.
packaging: dispenser 150 ml spray bottle with no gas.
CURL CREAM
Firming serum without rinsing, to define the curls so invisible. Leaves no residue and keeps your hair soft and shiny.
packaging: bottle of 150 ml.
CURL CONTROLLER
Cream governing can control hair volume from moved very curly, with Anti-Frizz effect.
packaging: bottle of 150 ml.
CURL REVITALIZER
Elasticising treatment, revitalizing hair wavy or curly. Boosts the vitality and elasticity of ricci among a shampoo.
package: vials with spray nozzle no gas from 75 and 250 ml.
---
Rate this product:
30 click
Viewed 36337 times
+3903311706328
Download PDF