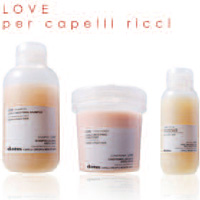 DAVINES
❤️


LOVE - curly and frizzy hair
Haircare Treatments
---
family of products for the daily care of curly and frizzy hair.
Enriched with special anti-aging formulations that protect against progressive aging process and pollution.

LOVELY SMOOTHING SHAMPOO pH 5.4
Moisturizing and smoothing with the extract of prickly pear that moisturizes and nourishes. The extract olive oil Peg 7 restores the moisture-lipid level which is essential for curly hair tends to be dry, leaving it soft and shiny.
box: 250 ml or 1000 ml.

LOVELY CONDITIONER
Mask nourishing and detangling.
box: 75 ml jar.

LOVELY CURL ENHANCING SHAMPOO pH 5.4
For wavy and curly hair. With myrtle extract to restore hydration and softness shine.
box: 250 ml or 1000 ml.

LOVELY CURL CONDITIONER
Detangling and nourishing mask for curly hair.
box: 75 ml jar.
---
Rate this product:
33 click
Viewed 144003 times
+3903311706328
Download PDF