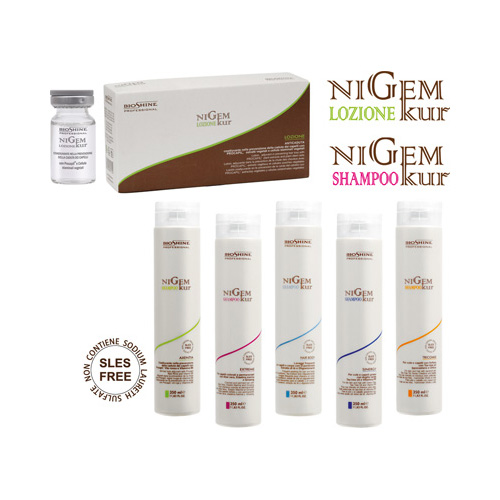 BIOSHINE
❤️


NIGEM KUR
Haircare Treatments
---
LOSS PREVENTION LOTION TRIVALENT
Lotion trivalent adjuvant in the prevention of hair loss, even in the presence of fat and dandruff. The multivitamin action of the active ingredients contained in plant extracts (rosemary extract, menthol and sage), in Procapil (patented formula) and Stem Cells in plants, favors a perfect skin tone, allowing you to nourish the skin and the hair up root : helps improve the conditions of excessive oiliness and reduce flaking dandruff. The action of the liquid is made evident by a slight cool feeling.
box: vials of 8 ml in box of 10 pcs.

LINE SHAMPOO NIGEM KUR
Specific line at physiological pH. It does not contain Sodium Laureth Sulfate (SLES) and DEA. Studied for the treatment of unsightly skin and hair.

SHAMPOO AXENTIA - adjuvant fall prevention
Thanks to the active ingredients and the Procapil, gently cleanses and rebalances the hair fiber, leaving it shiny and fluffy. Contains: Procapil, extract of Red Vine, Vitamin B6, Vitamin E, Nettle Extract, Yeast, Urea and D- panthenol.

SHAMPOO SYNERGY - greasy hair - pH fi siologico
Contains: Green Clay, Tea Tree Oil, Vitamin PP, natural menthol, Biotin or Vitamin H or Vitamin B8, brewer's yeast, Urea, Rosemary Extract, Burdock Extract, D- Panthenol, Piroctone Olamine, AC NET (specifically active against skin and hair grease) and vegetable glycerine.

SHAMPOO TRICOMIX - dandruff - physiological pH
Contains: Tea Tree Oil, Horse Chestnut Extract, Nettle Extract, Piroctone Olamine, Vegetable Glycerin, Menthol crystals, Yeast Extract, Rosemary, and D- panthenol.

EXTREME SHAMPOO - hair colored and permed
Energizing, contains D- Panthenol, Vegetable Glycerin, Benzophenone -4, Aloe Vera Extract, Ginseng Extract, Marine Elastin and Urea.
box: bottles of 350 and 1000 ml.

HAIR BODY SHAMPOO - hair and body
Suitable for a sweet and frequent washing of hair and body. Contains D- panthenol, Tea Extract, Vegetable Glycerin, fat-soluble sunscreen, benzophenone -4 and Trace Elements (Copper, Zinc, Iron, Silicon and Magnesium).
box: 350 ml bottle.
---
Rate this product:
31 click
Viewed 124352 times
+3903311706328
Download PDF