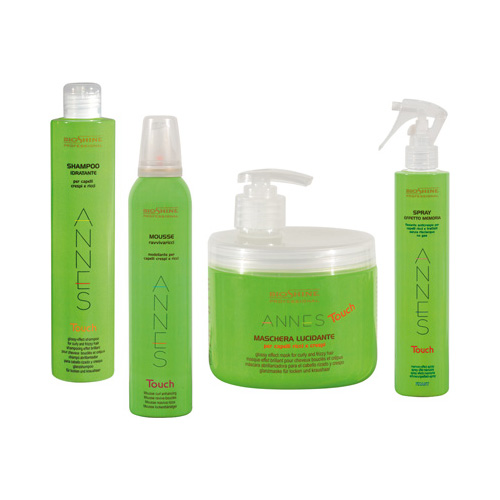 BIOSHINE
❤️


ANNES TOUCH
Haircare Treatments
---
SHAMPOO ANTICRESPO WITHOUT SLES
Suitable for frizzy and curly. Thanks to the active ingredients, cleanses and rebalances the hair fiber leaving it shiny and fluffy.
Package : 250 ml bottle and keg 5000 ml.
MASK LUCIDANTE
Suitable for curly and frizzy hair. It nourishes the hair fiber restoring the hair substances removed by chemical treatments or from the elements.
Package : 500 ml jar.

MOUSSE RAVVIVARICCI
For all types of hairstyles moves. Thanks to the precious substances, Fixed, gives corposit and volume to the hair making it shiny. Tenuta prolonged.
Package : 250 ml bottle.

MEMORY EFFECT SPRAY
Quick treatment intensive moisturizing and defines the hair frizzy and curly, leaving them shiny and soft ; creates a memory to curl.
Package : no gas spray bottle of 250 ml.
---
Rate this product:
31 click
Viewed 127008 times
+3903311706328
Download PDF