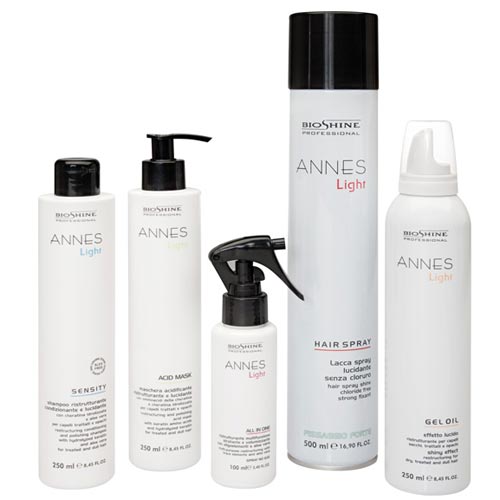 BIOSHINE
❤️


ANNES LIGHT
Haircare Treatments
---
treatment for color-treated hair and opaque
SHAMPOO SENSITY
Does not contain: SODIUM LAURETH SULFATE (SLES) ' ALLERGENS and dyes.
Restructuring is conditioning and buffing. For treated and opaque. With hydrolysed keratin and aloe vera. Gently cleanses your hair leaving it soft and fluffy. Has a soothing effect on the scalp.
packaging: bottles of 250 and 1000 ml.
ACID MASK
Acidifying restructuring mask ' and Polish for treated and opaque. With keratin amino acids and hydrolyzed keratin. Gives the hair is treated opaque or damaged volume and shine due to its very low acid pH.
packaging: bottles of 500 ml and 250.
ALL IN ONE
Moisturizing and plumping with trace elements and aloe vera. Hair conditioning spray multifunction ' conditions without weighing it down. It gives Shine ' softness ' silky; prevents the formation of split ends. Facilitates the use of plate and pHon ' eliminates Frizz is moisturizing and nourishing. Detangles hair ' extends the life of the fold; leaves hair shiny and full of life.
packaging: 100 ml spray bottle no gas.
GEL OIL
New vitality to dry hair is dried and processed: li reconditions and balances. Allows you to model your hair permanently. No fixative.
packaging: 250 ml bottle.
LACQUER SPRAY
Fixes the hairstyle by leaving it shiny and comb is protecting it from the elements ' chemical and natural. Leaves no residue on the hair. Strong fixation without chloride.
packaging: 500 ml spray bottle.
---
Rate this product:
31 click
Viewed 128623 times
+3903311706328
Download PDF