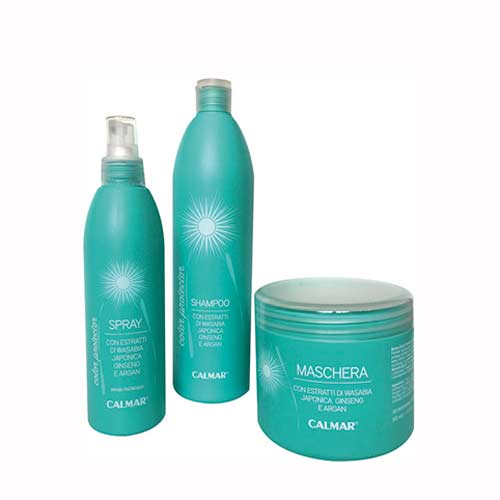 CALMAR
❤️


COLOR PROTECTOR
Haircare Treatments
---
with Ginseng extracts, organic Argan and Wasabi
The new line COLOR PROTECTOR consists of shampoo, mask and spray formulated with a natural compound from Wasabi and melanin, enriched with Ginseng extracts, organic argan and keratin, which helps the color to fade, not keeping your hair healthy, strong and vibrant. UV radiation and visible light play a significant role in clearing the right hair color, so it is important to protect them against photoaging effect. Melanin derived from Wasabi Japonica protects hair bleached or treated with natural, dyed, permanent, damages the environment that often result from photoaging, keeping your hair strong and vibrant.
A formulation of shampoo and/or conditioner (cream or spray without rinse) containing this natural complex, can obtain an anti-photoaging of the color up to 45%.

COLOR PROTECTOR SHAMPOO
packaging: 500 ml bottle.
COLOR PROTECTOR SPRAY
packaging: 250 ml spray bottle.
COLOR PROTECTOR MASK
packaging: 500 ml jar.
---
Rate this product:
30 click
Viewed 43911 times
+3903311706328
Download PDF