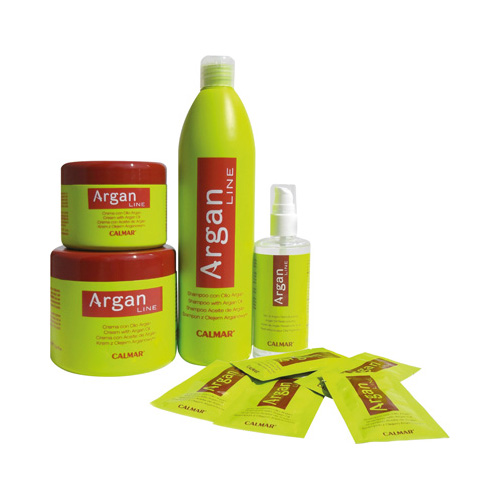 CALMAR
❤️


ARGAN LINE
Haircare Treatments
---
with Argan oil from organic cultivation
VITAMIN ARGAN HYDRATING SHAMPOO
hampoo vitamin moisturizer with Argan oil from organically grown is suitable for all hair types. Organic Argan oil is rich in vitamin A and F helps protect and maintain healthy hair hydrating , strengthening and keeping the scalp healthy and well fed. Gently cleanses respecting the structure of the hair, giving body and shine , . packaging: 500 ml bottle.
VITAMIN ARGAN OIL MOISTURIZER
Vitamin moisturizer with Argan oil from organic cultivation. BIO ARGAN LINE cream is a cosmetic treatment to combined action containing besides vitamin A , and , F , a high proportion of unsaturated fatty acids such as linolenic acid (an Omega 3) and linoleic acid (an Omega 6). Light and silky hair.
packing: 250 pots and 500 ml.
RESTRUCTURING VITAMIN ARGAN OIL
Vitamin restructuring based on Argan oil from organic farming , moisturizes and adds shine to all hair types leaving it silky and soft to the touch. Also use on a daily basis.
packaging: bottle of 100 ml.
---
Rate this product:
30 click
Viewed 105227 times
+3903311706328
Download PDF