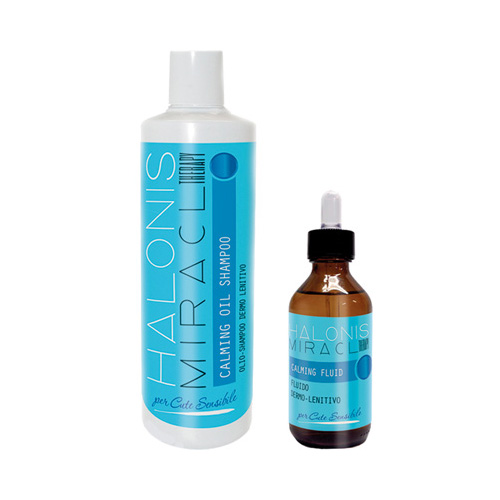 HALONIS
❤️


MIRACLE THERAPY-CALMING OIL SHAMPOO
Haircare Treatments
---
DERMOLENITIVO-SHAMPOO OIL physiological pH
For sensitive skin and dermatitis problems is also ideal for children. -Oil Shampoo is a physiological pH, formulated with cleaning agents derived from coconut oil is extremely delicate, non-aggressive and with a very low impact on the skin. Rich in soothing active ingredients and dermocalmanti, contains Cocoil Imidazoline group, whose low irritation and whose high protective action are due to the chemical structure of Imidazoline group that is able to create a sort of protective bearing both the dermal hair. The combination of delicate base with specific active ingredients mix dermolenitivi, makes the product ideal for the cleansing of hair after chemical treatments which can irritate the skin and sensitive skin in General; also great as frequent use and delicate.
Active ingredients: extract of Calendula soothing and emollient action; Iceland Lichen extract for purifying and emollient rich in, mucilage to soothing; Glycerin and moisturizing factor NMF2 already present in the skin; Allantoin and Alpha-Bisabolol specific active principles anti-redness and dermolenitiva action.
packaging: 250 ml bottle.

FLUIDO DERMO SOOTHING
Soothing and moisturizing fluid is indicated in case of dry skin, sensitised and flushed. To use pure directly to scalp treatment, may also be used to blend in. The assets it contains belong to nourishing anti-oxidant and softening gloss '.
packaging: bottle with dropper from 100 ml.
---
Rate this product:
30 click
Viewed 102667 times
+3903311706328
Download PDF