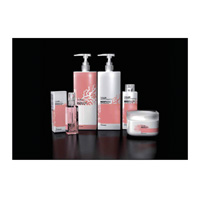 FRAMESI
❤️


DELUX
Haircare Treatments
---
colored hair often suffer from dehydration, MORPHOSIS DELUX is a line of color treatment, formulated to protect colored hair from the loss of softness, shine and color intensity.

DELUX COLOR MASK - mask restructuring
It nourishes and softens even the most dehydrated hair and keeps the keratin scales, well-sealed (pH 4), leaving the stem is smooth and compact. Thank lipids polishes, Guar Gum and silicones restructuring of the latest generation, keeps longer than the brightness of the color.
box: jar 500 ml and 1000 ml bottle.

DELUX COLOR SERUM - serum protective color
Discipline hair, has an anti -frizz and anti- split ends and protects the color from fading due to UV filter. It does not contain water, so it does not alter the physiological pH of the hair.
box: 50 ml bottle.

DELUX COLOR SHAMPOO
With sugar derivatives and pH 4.5, cleanses while respecting the structure of the hair without damaging the color. It softens and gives comb.
box: bottles of 250 and 1000 ml.
---
Rate this product:
30 click
Viewed 128502 times
+3903311706328
Download PDF