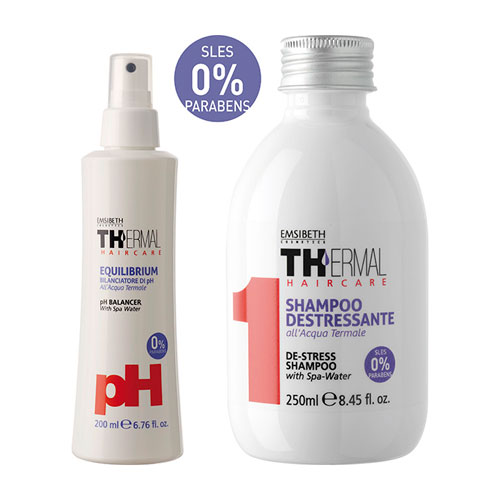 EMSIBETH
❤️


THERMAL DESTRESSING LINE
Haircare Treatments
---
Ph EQUILIBRIUM pH BALANCER
Spa treatment to balance the skin's pH and reactivate physiological defensive mechanisms. Ideal to soothe itching and inflammation and redness. Neutralizes the anomalies such as dandruff's sebum and hyperhidrosis. No overhead and is suitable for all skin types. Reduces the growth of micro-organisms and prevents the weakening and hair loss.
packaging: bottle of 200 ml.
1th DESTRESSING SHAMPOO and scalp
Based on thermal water ' mild ' green tea extract and a synergy of vitamins (EF-PP-B5) promotes the circulation and oxygenation of the scalp. Leaves hair soft and protected by free radicals.
packaging: bottles of 250 and 1000 ml.
THERMAL
The source of the Terme di Giunone (Caldiero-Verona) certified thermal water flows from the Ministry of health for the treatment of skin abnormalities that animates the THERMAL treatments. Is a bioactive water that enhances the beauty of your hair and restores a new balance that gives health and vitality. The water of Juno's thanks to Minerals and trace elements present hydrated ion's ' remineralizes and restructures the hair but also has a soothing emollient and hydrating the skin's inflammatory '. Juno's water color with mud stimulates microcirculation favouring the removal of toxins.
---
Rate this product:
30 click
Viewed 142503 times
+3903311706328
Download PDF