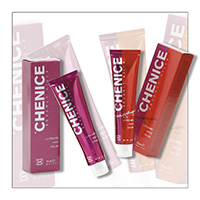 CHENICE
❤️


Liposomer hårfarge og COLOR STRAIGHTLIGHTS
Hårfarger
---
farging permanent og semi -permanent basis med krem / gel som sikrer total dekning av hvitt hår, og etterlater håret mykt og glansfullt. Formel Intel B5 system med kontrollert frigivelse av aktive ingredienser. Behagelig lukt.
Inneholder :
- Liposomes :. Et system for kontrollert frigjøring av aktive ingredienser
- Panthenol (provitamin B5) : gir styrke, mykhet, glans og skinner direkte inn i cortex
.- Kreatin : utfører en styrkende og beskyttende hår som gir samme styrke og glans
.- The Guar Gum : på grunn av sin høye effekt condition, ytterligere forbedrer mykhet og administrasjon
.- Den Poliquaternari og Ceramides : Anchor utøve et pigment, styrke condition effekt av liposomer gjør håret mykt, skinnende og silkeaktig med levende farger som varer lenger over tid
.- Pigmenter med høy faktor ekspansiv : de sørge for at fargen varer over tid som de utvider betydelig innenfor cortex av hår. Det er formulert i to versjoner :. Standard og Straightlights
Shades er tilgjengelig i 66 nyanser.
måte d ' å bruke: 1:1,5 fortynning. Series 10, 1:02 fortynning.
boks : 70 ml tube .
---
Rate this product:
32 click
Viewed 125669 times
+3903311706328
Download PDF