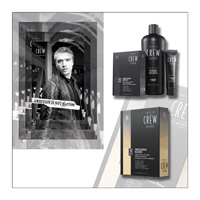 AMERICAN CREW
❤️


AMERICAN CREW SPALVŲ SISTEMA
Žmogus - dažymo gaminiai
---
naują stogų sistemos gamtinių baltų plaukų, dėl tono spalvos tonas be amoniako su 4 natūralių atspalvių, labai greitai, ir tik 5 minučių montavimas.
Banner AMERICAN CREW TIKSLUMAS BLEND
Tai kamufliažas žili plaukai paslauga, kuri užtikrina natūralų ir harmoningą rezultatą. Taikoma pjovimo leidžiantį tikslinę intervenciją metu, pasirenkant kamufliažas žilus plaukus 25, 50 ar 70 %. Turi 4-6 savaites trukmę ir dingsta maloniu būdu be smeigtuko ir be atauga, jo kvapas yra malonus.
dėžutė:.
, spalva vamzdelio ir aktyvatoriaus butelis 450 ml
---
Rate this product:
30 click
Viewed 106894 times
+3903311706328
Download PDF