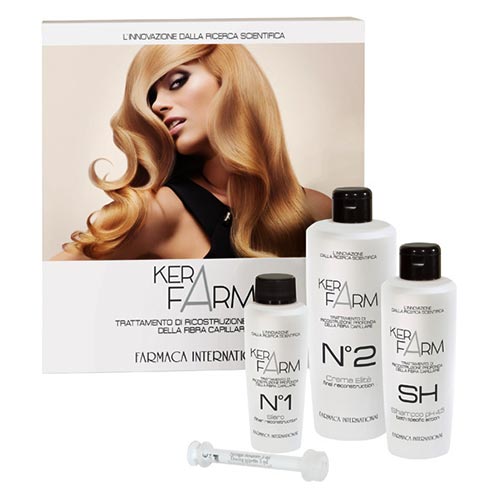 FARMACA INTERNATIONAL
❤️


SPECIAL PROTOPLASMINA KERAFARM
Haircare Treatments
---
deep reconstruction system of capillary fibre during service
Is the new ideal reconstruction system for limp hair due to continuous exposure to chemicals such as discoloration or pickling ' colours ' permanent ' hair straightening or derived heat from the plate and various mechanical stress. Protects hair from breakage during bleaching and lightening technical services ' coloring ' dramatically reduces the breakage of the hair and helps maintain the quality of the hair during the chemical process.
KERAFARM can be used to treat hair well without the need to combine it with technical treatments of color or discoloration or ironing.
coloration: is fully compatible with all professional coloring systems ' does not change the way people work and adds no color and bleaching traditional ride to work.
SMOOTH or curly
Multiplies the keratinous ties ' improves and strengthens the sulphur bridges damaged during the previous treatments. The product is not straightening power ' but can be matched to it or a posteriori of treatment to improve the final result. The treatment consists of two Stages is the N° 1 and N° 2 plus the specific Shampoo.
# 1 SERUM FIBER RECONSTRUCTION
It should be mixed with treatment (decolorization or color).
packaging: bottle of 400 ml.
N° 2 CREAM ELITE FINAL RECONSTRUCTION
Must be applied after shampooing specific pH 4 ' 5 to strengthen the outer surface of the hair completely.
packaging: bottle of 250 ml.
SH 4 ' 5 pH SHAMPOO BATH SPECIFIC ACTION
packaging: bottle of 250 ml.
---
Rate this product:
36 click
Viewed 59933 times
+3903311706328
Download PDF