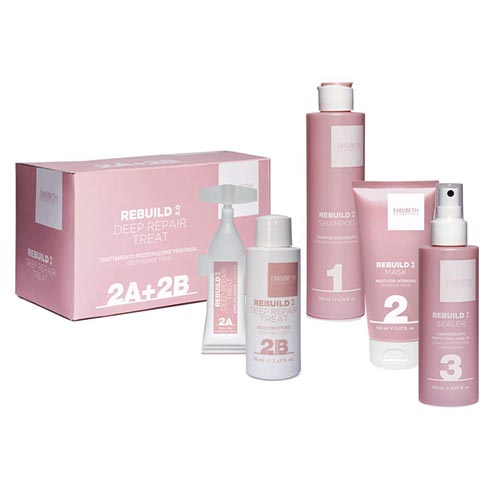 EMSIBETH
❤️


Rebuild-reconstruction
Haircare Treatments
---
treatment of deep reconstruction
Based on the concept of "like with like" similar with similar ' this treatment allows you to re-integrate the missing part of Keratin and return the natural vitality and body to the hair. REBUILD represents the new era of reconstruction of the hair with a Keratin evolved intelligent biomimetic:
-clever because it performs a targeted to repair damaged and degraded areas of the hair fiber is focusing the action where you need them most.
-amino acid sequence perfectly replica biomimicry because naturally present in the hair.
REBUILD gives greater volume and body to your hair's greater resilience is making the hair stronger ' polished and cleaned up.
The range consists of ENHANCER SHAMPOO' TREATMENT DEEP RECONSTRUCTION' PROTECTIVE CONDITIONER without RINSING and MAINTENANCE INTENSIVE MASK.
REBUILD SHAMPOO
shampoo without sulfates and parabens Enhancer
Mild surfactants based and powered by Hydrolysed wheat protein and Keratin Quaternizzata Biomimicry' cleanses gently returning strength and vigor to damaged hair or exploited by chemical treatments aggressive. Prepare the hair structure upon receipt of the elements of the subsequent stages retreaders.
packaging: bottles of 200 and 1000 ml.
REBUILD DEEP REPAIR TREAT
treatment of deep reconstruction
The innovative formula based on Panthenol Cationic Polymers' i and Keratin Quaternizzata Biomimicry performs a targeted repairing damaged and degraded areas of the hair fiber. Hair recovers immediately force ' Shine ' volume and strength. The treatment consists ofAMPLIFIER 2A and 2B REBUILDER.
packaging: bottle of 50 ml.
REBUILD SEALER
No Rinse protective conditioner
Specific formula for the final phase of treatment reconstruction. Sets the active ingredients retreaders in the hair structure. Thanks to its composition based on Keratin Quaternizzata Biomimicry' Ceramide A2' Aloe' Hydrolysed wheat protein and Sunscreenis ultra lightweight ' protects hair from thermal stress ' chemical and mechanical ' hydrates and revitalizes.
packaging: dispenser 150 ml bottle.
REBUILD MASK
intensive mask
Nourishes and restructures ' returning consistency ' body and shine to dry, damaged hair and dull. Jojoba Oil-based ' Aloe Vera and Panthenol's Keratin Biomimicry Smart' strengthens and protects the hair without weighing it down.
packaging: tube of 150 ml.
---
Rate this product:
36 click
Viewed 151442 times
+3903311706328
Download PDF