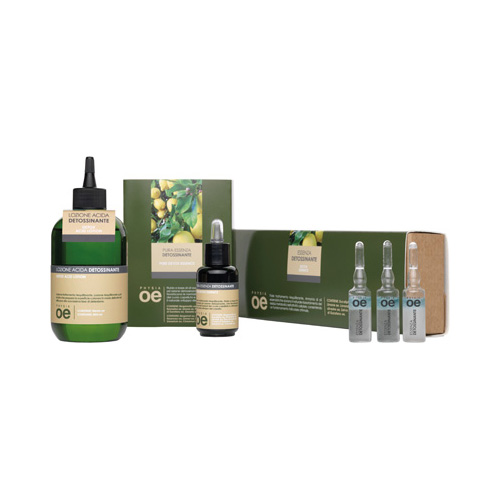 DEMERAL
❤️


PHYSIA OE-DETOX ONLINE
Haircare Treatments
---
Treat scalp means taking care of your hair is a simple philosophy , and , harmonized functional with a precious gift of nature: essential oils. Essential oils , distillation , extracts are the beating heart of OE PHYSIA and act effectively in a line meant to treat cosmetic disorders of the scalp. Supported by ingredients and formulation choices consistent with the objectives of the line , were , then , banned alcohol in vials and classic but too aggressive surfactants (SLS , SLES) , in favour of a , functional heart, and a respectful cleansing the scalp and hair.

DETOX ONLINE
Prepares your scalp to specific treatment. With detoxifying properties , renews the natural balance of the scalp , acting externally on the restoration of the physiological pH and deep cleansing action of follicle area.
Contains: Bergamot Lemon Oe , Oe , Oe , Eucalyptus Mint Oe , Oe , Lavender Rosemary Oe , Oe , Sage Pine Oe , cloves , Oe Oe Oe , Cinnamon Geranium.
SOUR DETOXIFYING LOTION
Balancing acid pH lotion that prepares the skin gently and effectively to the next phase of cleansing.
packaging: 250 ml bottle.

DETOXIFYING ESSENCE
Harmony of essential oils that help the natural reabsorption of metabolic residues of cellular activity , allowing a running optimal follicular.
package size: 7 ml vial box from 8 PCs.

DETOX PURE ESSENCE
Re-balancing treatment fluid. Fluid made from essential oils to detoxifying action , which promote the normal functions of the scalp and optimize the natural development of the hair.
packaging: bottle with dropper from 30 ml.
---
Rate this product:
30 click
Viewed 72071 times
+3903311706328
Download PDF