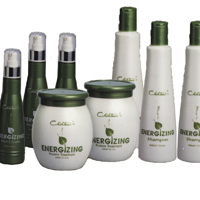 CHIHTSAI'S
❤️


ENERGIZING
Haircare Treatments
---
ENERGIZING - protein, energizing and nourishing
The energy products come directly from the oil obtained from a tree Bodhi Tree from India. The set consists of :
ENERGIZING SHAMPOO ENERGISING
Its active component, unique in its kind, is composed of the cryoextraction of linden blossoms. Bottle of 460 ml.
ENERGIZING CREAM ENERGISING
Its active component is the cryo- Tilia tomentosa extract, rich in amino acids and peptides helps fight the damage caused by UV rays and chemicals. Without rinsing. Pump bottle of 200 ml.
ENERGIZING PROTEIN TREATMENT
Contains multiple proteins and amino acids that penetrate deep into the skin and in the hair bulb releasing the vital energy to the hair. Jar of 630 ml.
---
Rate this product:
30 click
Viewed 115553 times
+3903311706328
Download PDF