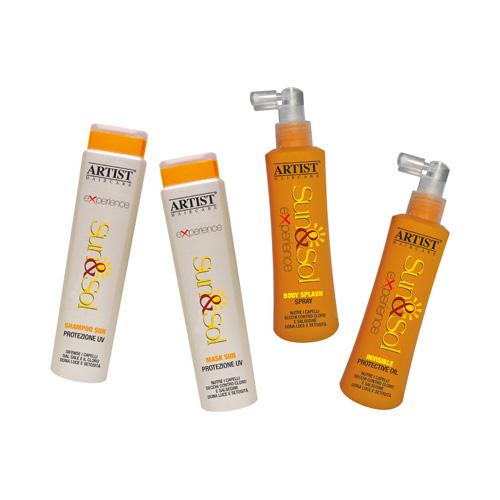 ARTIST
❤️


SUN & G
Haircare Treatments
---
shea butter care, maintenance and protection of hair exposed to the sea and UV
SUN & G is a line of solar EXPERIENCE that, thanks to its active ingredients such as Shea Butter and Physical UV filters, it helps the hair to maintain proper hydration and protection. Protects against salts of the sea, from the elements and UV rays. SUN & G uses fragrance Peach and Coral, notes delicately sweet, sensual and marinas that make exposure to the sun pleasant and relaxing.
SHAMPOO HAIR & BODY
For a deep cleansing of the body and hair. Returns softness and hydration to the hair. Remove the residue of sea salt and chlorine.
Container: 250 ml bottle.
INSTANT CONDITIONER
High moisturizing mask, restore water balance and helps to give the hair shine, silkiness and extreme softness.
Container: 250 ml bottle.
ILO INVISIBLE PROTECTOR
The oil is extremely invisible that creates a layer forming ensuring maximum hair protection throughout the exposure to the sun.
pack : bottle with dispenser 250 ml.
BODY SPLASH
Dry Oil for solar tan quickly and evenly. It gives the skin a bronze color / gold. BODY SPLASH is a unique product of its kind, provides a pleasant sensation of freshness, leaving skin smooth and silky. Dry oil with no greasy effect.
Container: 250 ml bottle with dispenser.
---
Rate this product:
30 click
Viewed 124923 times
+3903311706328
Download PDF