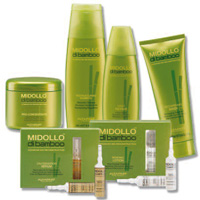 ALFAPARF
❤️


MARROW OF BAMBOO
Haircare Treatments
---
reconstruction treatment for damaged hair, damaged and weakened
Treatment can repair the damage to the internal structure of the hair, to restore the cohesion between the cuticle and the cortex and restore the integrity of the surface.

RESTRUCTURING SHAMPOO
Effective cleansing enriched with precious ingredients rimineralizzati to facilitate the process of restructuring the hair fiber.
Bottles of 250 and 1000 ml.

RECHARGING MASK
Restructuring treatment to repair and strengthen damaged hair, damaged and weakened. The bio- restorative action of bamboo marrow promotes regeneration of the global structure. Tube of 250 ml and 1000 ml jar.

RENEWAL LOTION
Single-dose treatment without rinsing to repair and strengthen the hair brittle, extremely damaged and weakened. A rich cocktail of controlled-release trace elements. Used gradually allows you to find 100% of the health and beauty of natural hair. Vials of 13 ml in box of 6 pcs.

DAILY REPAIR
No-rinse spray treatment for extremely damaged and brittle hair. Restructuring instant to finalize the reconstruction process by sealing the cuticle and providing an effective protective barrier. Cosmetic agents give excellent detangling, hydration and shine. 125 ml bottle.

cauterization SERUM
Professional treatment for deep reconstruction of extremely damaged and weakened hair. Thermo- active formulation to repair the deepest damage, recreating the internal material of the hair. Vials of 13 ml in box of 6 pcs.

PRO CONCENTRATE
Treatment focused shock to the global reconstruction of simplicity which damaged and weakened hair. Recreate the internal matter of restoring hair strength, vitality and flexibility. Pot of 500 gr.
---
Rate this product:
30 click
Viewed 137355 times
+3903311706328
Download PDF