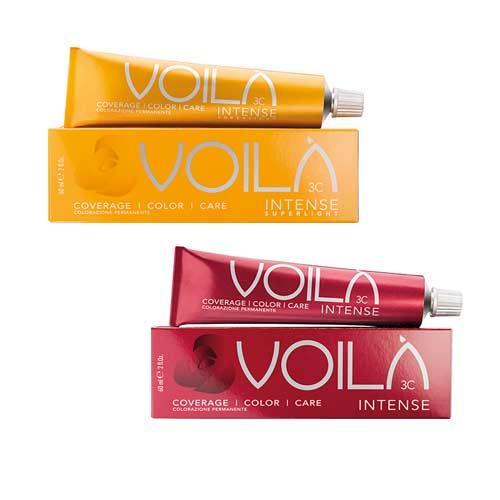 REVLON PROFESSIONAL
❤️


VOILÁ 3C INTENSE
Hair Color
---
3 c: covering, color, beauty
VOILÁ 3 c INTENSE has a unique formula and highly innovative that is synthesized by the same name 3 c: coverage,
color, beauty. Features and benefits:
• 100% coverage of grey hair: apply the hue and the reflection chosen with the client for simplicity of the work of the hairdresser;
• REDCOUPLE SYSTEM technology: coverage, long lasting and extraordinary intensity of reflexes (55/66/44 series...)/. 64);
• loyalty to the color chart: facilitation in choice of shades for the daily work of the hairdresser;
• new antioxidant and slimming system: improves the olfactory note and lengthens the time of oxidation mixture;
• Pearly cream: creamy texture and cosmetic appearance;
• new fragrance with rose and Jasmine: pleasant and reduces the perception of odour of ammonia.
Active principles:
• hydrolyzed keratin, the protein that penetrates deep into giving substance and elasticity;
• 18 keratin amino acids that have great affinity with the keratin of hair and act moisturizing deep;
• specific conditioner that adheres to the hair shaft ensuring softness and manageability for both wet and dry hair;
• delayed oxidation which allows the color to penetrate more effectively without damaging the cuticle;
• seal of effect pigments that are trapped in the cortex tenacious coverage ensuring;
• primary and secondary pigments Symphony effect between getting the utmost harmony between color and reflection;
• gloss effect that gives the hair softness and enhances the light reflexes.
shades: VOILA 3 c INTENSE is available in over 100 colours.
method of use: mixing ratio: 60 ml 90 ml Voila Voila Intense Ossidant Cream + 3 c. Exposure time short/medium hair: apply color along lengths and tips and leave on 20 minutes. Apply the color on the roots and leave for another 25 minutes. Total time: 45 minutes. Long hair: apply starting from the ends and leave on 15 minutes, 20 minutes or 25 minutes. Total time: 60 minutes. Retouching: apply the color on the regrowth. Shutter speed from 30 to 45 minutes. Extra lightening series: apply color only on the roots (for editing). Total time: from 30 to 45 minutes.
packaging: 60 ml tube.
---
Rate this product:
30 click
Viewed 34298 times
+3903311706328
Download PDF